VISUALIZE SPORTS
Regular price
$14.99 USD
Sale price
$13.99 USD
Unit price
per
Sale
Sold out
The VISUALIZE TRI-LINE Golf Ball Marker Set is the ultimate solution for improving your game. With its unique 3-line design, you'll make more putts and have better aim and alignment both on the green and off the tee. It's the best selling golf ball marker kit on Amazon and has multiple marking options to personalize your ball. Plus, you won't have to carry around different tools with this all-in-one marker. Make your game more fun and confident with the VISUALIZE TRI-LINE Alignment Kit!
Get more bang for your buck with the TRI-LINE Golf Ball Marker – with options for 1, 2, or 3 alignment lines, plus personalized markings!
Get ahead of the game with three parallel lines – research shows they help you start your putts on the right track.
Improve your aim and alignment with the perfect lines from the golf ball alignment marking tool.
VISUALIZE quality with this must-have golf accessory – it's a golf ball marker, magnetic, line marker, and marker set in one!
Share
View full details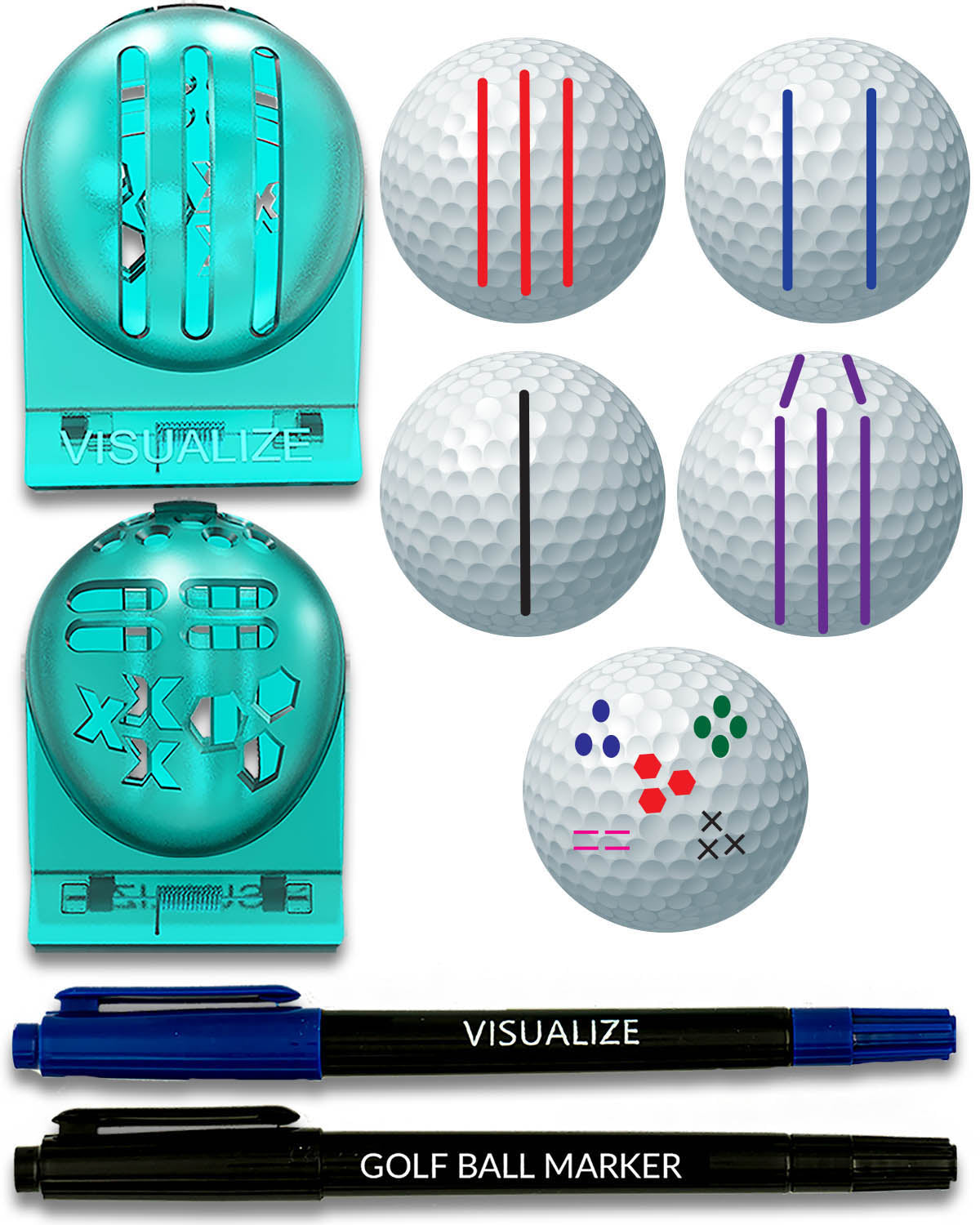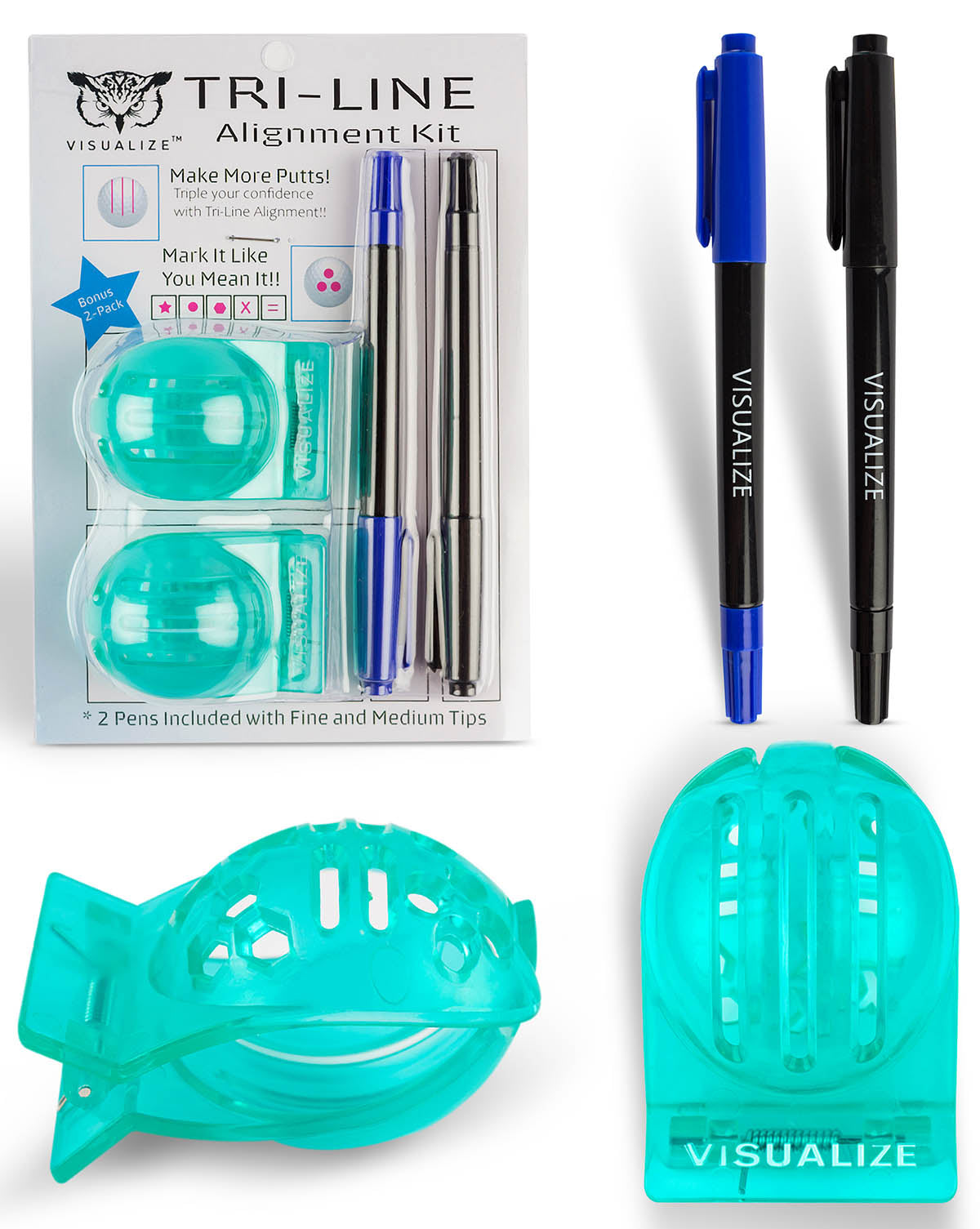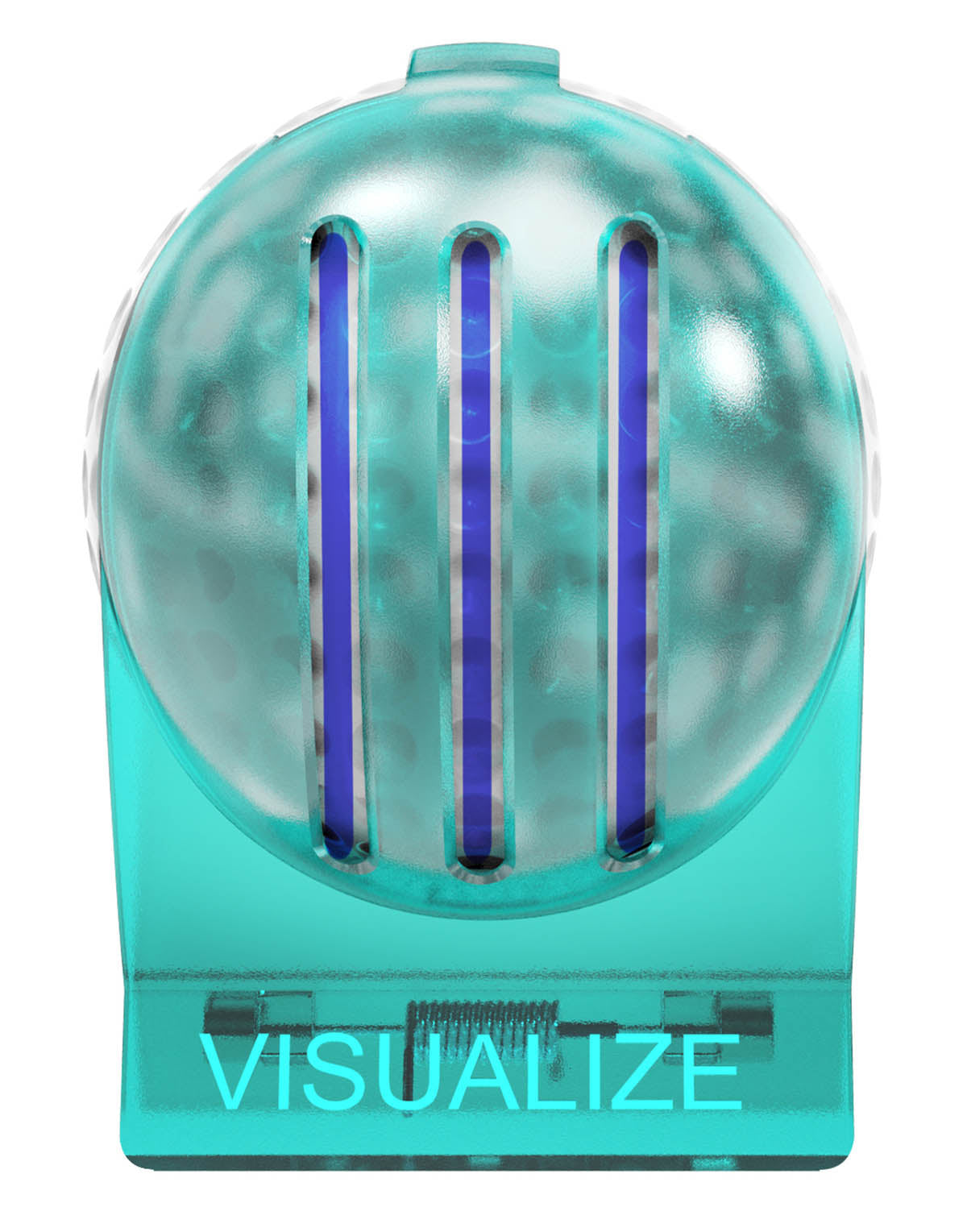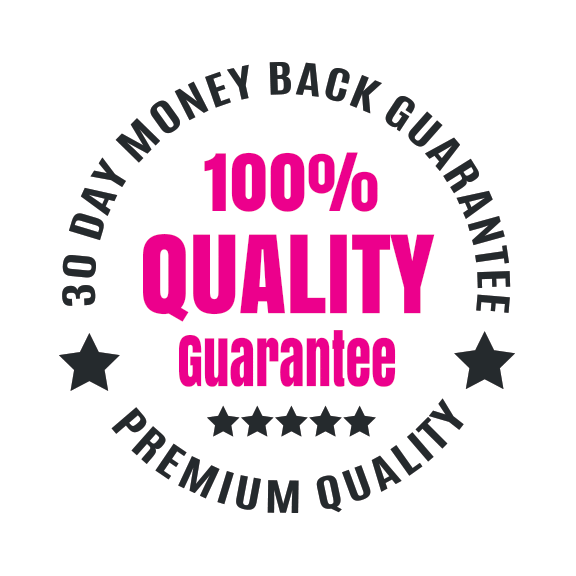 Note: this company provides dual tipped pens! Well done.
I think I prevented my bad review from populating the web. I got frustrated trying to fit the fat ( called medium) sized Sharpie into the little holes of the X's and the hexagons... but this company got it right. These Pens have a fine tip on the back end and I don't think most companies do that. So I applaud these people for giving you a 2 tipped pen! Buy these and be careful about buying the one that don't have a medium and a fine tip if you want to be able to use the pens provided on those tiny little
Highly Recommended!
I typically do not write reviews whether the product is good or bad, but I think this alignment tool deserves it and I highly recommend it. I found the single line marking tool difficult to line up the ball to the target because the line could lean off to the side if that makes any sense, so I stopped using it. The triple line, however, makes it much easier to align the ball to the target. I use a putter that has a center line, which I use to align it with the ball and the target. Now all I have to worry about it getting the speed correct. There's a reason Callaway sells golf balls with the lines already on them, I just prefer to use my own brand of golf balls. I was surprised the tool came with a divot repair tool and a magnetic ball marking tool for this price. Hope this helps you as much as it helped me. Cheers!
Wider than Triple Track, but this is actually great!
This is definitely wider than the CAllaway Triple Track balls, but I actually prefer it. If you are trying to use a triple track putter it will not line up, but if you just want lines on the balls, then this is perfect. I actually prefer the wider lines.
Good Value Tool
I am a calloway ERC fan so was anxious to mark my titleist and srixon ball with a triple track pattern. The medium pen makes professional looking stripes; the thin pen is more difficult to control in the line channels.
Note that ere are two tools in the package; one for home and one for the golf bag. Nice touch. By luck, the triple lines align well with my CAlloway mallet putter marks. The balls are held firmly by the spring loaded clam shell, so the three lines appear parallel.
Great ball marker for golf kit
Great product
needed a ball marker so bought this
comes with all items that are seen in the image
description of product is what you get
works great and even after over a year it is still being used and works great
love the idea of this product and really like it sturdiness and great material
ANSWERS SO SOME COMMON QUESTIONS
Is there a warranty?

All VISUALIZE products are covered by a 30-day guarantee, but will assist to make sure you are satisfied with your purchase.
Will this actually help, as I am buying as a gift?

There are several ways that this tool will help your favorite golfer. The markings will help with identification. But the real help will be with making more putts with the three-line alignment. It also helps align off the tee box. A great gift, and helpful.
Where can I get help with any questions or issues?

VISUALIZE prides ourselves on our customer service. You can always reach out to us and we'll do our best to answer your questions and concerns, and to fix any errors or issues.